blog
#MakeLove — Bride And Groom Spend Their Wedding Day Feeding 4,000 Syrian Refugees
Published on August 6, 2015
A Turkish bride and groom decided to share their joy on their wedding day by inviting 4,000 Syrian refugees to eat with them and celebrate in the southern Turkish city of Kilis.
Fethullah Üzümcüoğlu and Esra Polat, who got married in a province near the Syrian border, invited refugees who have fled the country since the civil war began four years ago. The groom's father said he was glad that the couple began their life together "with such a selfless action."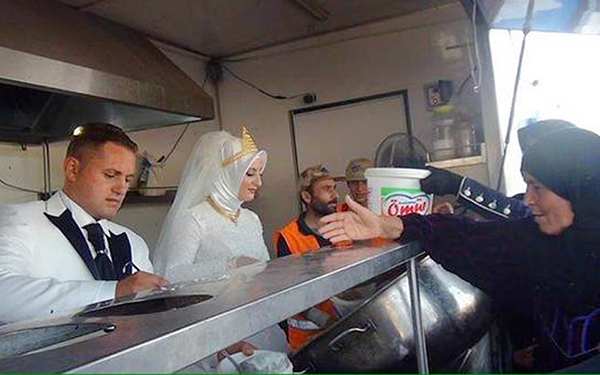 Photo: @kimseyokmu
Wedding guests shared food using trucks and those providing meals included the bride and groom themselves.
"I was shocked when Fethullah first told me about the idea but afterwards I was won over by it," the bride told i100. "It was such a wonderful experience. I'm happy that we had the opportunity to share our wedding meal with the people who are in real need."
Courtesy of sunnyskyz.com
Back to Posts »